Friday, January 30, 2009
South Stream answer for Europe
MOSCOW, Jan. 29, 2009 (UPI) -- With the Ukrainian-Russian gas dispute putting renewed focus on alternate gas routes, new emphasis should move toward South Stream, a Russian economist says. Russian economist Oleg Mityayev writes in RIA Novosti Thursday that the European Union expects its natural gas demand to increase from about 2.5 billion cubic feet per year to 3.5 billion cubic feet per year by 2030. This trend makes the South Stream project to Italy important, he says. The project would bring natural gas from the Black Sea to Italy and Southern and Central Europe. Russian energy monopoly Gazprom and Italian company Eni S.p.A. (NYSE:E) signed agreements on the project in 2007, with host and supplier nations following suit. Alexander Medvedev, deputy chief of Gazprom, echoed those sentiments, adding South Stream capacity could increase beyond its current 1.1 trillion cubic feet projection. Bulgaria, a host, would be able to meet gas requirements through the project while Serbia, also a host, could gain 100,000 new jobs and bring $2.6 billion in foreign investments. South Stream, Mityayev says, would bring benefits to all involved and bring more diversified gas reserves to Germany and Italy, two of the primary importers in Europe.
Gazprom, Lukoil hail results of talks with Uzbek partners
TASHKENT, Jan 28, 2009 (AsiaPulse via COMTEX) - LUKOIL and Gazprom assess highly results of cooperation and current talks with Uzbekistan's partners in the sphere of energy resources, chief executives of Russia's two biggest energy sector companies said on Friday. They are members of a delegation that accompanied Russian President Dmitriy Medvedev in the course of his two-day official visit to Uzbekistan. "We have reached really commercial principles of interaction in the gas sector," Chief Executive Officer of Russia's gas giant Gazprom Alexei Miller said, commenting on a gas purchasing contract and the pricing formula drafted by the two countries. "In addition, we intensively cooperate in geological surveying. And, I should say, we have good prospects in the area of natural gas production in Uzbekistan," he said. Miller is confident, "our cooperation is developing in all spheres in the gas sector." According to LUKOIL President Vagit Alekperov, "we have already gotten close to the target level of gas production at our first project, Khauzak-Shady, which is estimated at three billion cubic metres of natural gas a year." "We have concluded a contract with Gazprom, that is, we sell gas to Gazprom," he said. "The company has already invested more than US$0.5 billion in the project," Alekperov said. "At present, touching upon development of our projects during the talks here, we surely bear in mind one of the biggest undeveloped deposits, Kandym," Alekperov said. On Wednesday, LUKOIL's CEO was received by Uzbeki President Islam Karimov on the eve of the current state visit of the Russian president. Back then, the sides stressed that energy cooperation would be in the focus of Friday's talks. Karimov said, in turn, that Russia's largest oil producing LUKOIL company is one of Uzbekistan's reliable partners, while "fuel and energy sector is one of the most important spheres of the trade, economic and investment cooperation between Russia and Uzbekistan." Alekperov, for his part, expressed gratitude to the Uzbeki partners "for special attention to the cooperation with LUKOIL," the press service of the Uzbeki head of state said. During the meeting "the sides discussed further development of cooperation between companies of Uzbekistan and LUKOIL," the press service said, adding that the interlocutors also "considered progress in the implementation of joint projects, and opportunities for the drafting and fulfilment of new projects." Russia's energy companies take an active part in geological surveying and developing deposits of energy resources in that Central Asian republic, the press service said. In particular, in 2004 the National Holding Company Uzbekneftegaz and Russia's LUKOIL signed an agreement on investment of more than US$3 billion in the development of the Uzbeki oil and gas sector. A mission of the Russian company opened in Tashkent. In addition, a subsidiary LUKOIL Overseas Uzbekistan, which is engaged in the implementation of Kandim-Khauzak-Shodi-Kongirat project, was created in that former Soviet republic, the press service said. In 2007, bilateral cooperation yielded first tangible results a Bukhara-located Khauzak gas deposit was put into operation, UzDaily.com reported. All in all, 180 wells are planned to be drilled within the framework of the Kandim-Khauzak-Shodi-Kongirat project, as well as more than 1,500 kilometres of gas pipes will be laid down, the press service said. The project capacity of the deposit is more than 10 billion cubic metres of natural gas a year. A gas refinery will be built in the format of the project. The refinery's annual capacity is eight billion cubic metres of gas, the press service said.
Kuwait agrees to joint venture on energy with Russia's Gazprom
January 27, 2009 – World Tribune – ABU DHABI — Kuwait has formed a joint venture with Russia's leading energy company. Kuwait's Noor Financial Investment has joined Russia's Gazprom for energy ventures in both countries. Under the deal, the joint venture would conduct crude oil and natural gas production as well as provide maintenance services. "We are delighted to be co-investing with Gazprom to participate in their opportunities in Russia and Commonwealth of Independent States countries, as well as partnering to bring Gazprom to the [Gulf] region," Noor deputy chairman Nasser Al Merri said. Executives said Gazprom would own 51 percent of any joint venture in Russia. Noor would retain a 51 percent stake for projects in Kuwait, with Gazprom holding 29 percent and the Cyprus-based Cilantro Holding, 20 percent.
Monday, January 26, 2009
Results of Russia-Uzbekistan Meeting
26.01.2009 - [Neftegaz.RU] - Russian President Dmitry Medvedev has visited Uzbekistan recently to reassert Russian influence in the region. The results of the meeting of two presidents are very posititve for the Russian party. The Moscow Times quoted the Uzbek President Islam Karimov as saying that Uzbekistan is ready to work with Russia on the construction of new pipelines that would boost exports and transit of gas. Karimov said actual sales of Uzbek gas to Russia this year would be lower than the 16 billion cubic meters offered because of technical limitations. But he said Uzbekistan could export twice as much in the future once LUKoil starts producing 16 billion cubic meters of gas per year there by 2015. Karimov, who withdrew Uzbekistan from a Moscow-led regional economic cooperation group, assured Medvedev that he saw the Kremlin as the key player in Central Asia. "Russia is a country which has always been present in this region and a country which has defined politics and the balance of forces here," he said. He also took Medvedev on a tour of the ancient city of Samarkand, in central Uzbekistan, where they visited a bazaar, carpet weaving shop and mosque.
Ukraine-Russia gas deal could be overturned:official
KIEV, Jan 26 (Reuters by Ron Popeski) - A top aide to Ukrainian President Viktor Yushchenko said on Monday that the deal struck last week to restore Russian gas flows to Europe could be declared invalid if shown to have been concluded under pressure. The deal between the two ex-Soviet state's gas companies - Ukraine's Naftogaz and Russia's Gazprom - was clinched last week after two long negotiating sessions led by Prime Minister Yulia Tymoshenko and her Russian opposite number, Vladimir Putin. It provided for Ukraine to pay market prices with a 20 percent discount for 2009 - $360 in the first quarter against $179.50 last year - and eliminated intermediaries in trading as long demanded by the Ukrainian prime minister. Bohdan Sokolovsky, the president's energy aide, said the outcome differed greatly from Yushchenko's proposals and the deal's provisions were "done in haste with no analysis of the consequences". In a statement on the presidential Website, he said: "The issue of using pressure must be investigated. The gas agreement between Naftogaz and Gazprom could be declared invalid if it were concluded under pressure." Yushchenko and Tymoshenko, rivals despite their alliance during the 2004 "Orange Revolution" that brought pro-Western leaders to power, have adopted widely divergent positions on the agreement that ended a three-week cutoff of supplies. Tymoshenko praised the deal, saying it offered Ukraine the best possible conditions, while the president said the price rise amounted to a "defeat". The president's top economic aide last week called for talks by the summer to improve the deal's terms. Gazprom chief Alexei Miller rejected any notion of renegotiating the deal. The president's Website also said Naftogaz chief Oleh Dubyna had been taken to hospital with heart trouble in the days following the signing of the agreement and was likely to undergo treatment for the next two to three weeks. Sokolovsky said an initial analysis of the contract gave rise to the notion that "pressure had been applied to Dubyna on the night the contract was signed...and this could have had a negative impact on his health".
TNK-BP adds 460m barrels to reserves
01-26-2009 - Upstream OnLine - Russian oil company TNK-BP , half-owned by oil major BP , said on today it added at least 460 million barrels of oil equivalent to its estimated reserves in 2008 due to geological exploration alone. TNK-BP, Russia's third-largest oil producer, published the information in a corporate bulletin on its website. It did not estimate reserves that could have been added due to acquisitions and reviews of current reserves. A TNK-BP spokeswoman told Reuters the company would publish the results of its annual reserve audit shortly, probably before the end of this moth. Russian Energy Ministry data showed TNK-BP last year produced around 506 million barrels of oil and 10 billion cubic metres of gas (60 million of barrels of oil equivalent) - a total 566 million barrels of oil equivalent. This means TNK-BP would need to add at least 106 million barrels of oil equivalent to the 460 million barrels announced today to maintain its record of fully replacing the production. TNK-BP replaced its oil and gas reserves by 179% 2007, the fifth consecutive year it added more to reserves than it produced. In 2006, it replaced 129%, compared to 137% in 2005, 127% in 2004 and 133% in 2003. Analysts pay close attention to the reserves replacement ratio of oil companies for signs the company is able to sustain production growth in the future. As of the end of 2007, TNK-BP's total proved reserves stood at 8.225 billion barrels of oil equivalent, under the US Securities and Exchange Commission's methodology on a life-of-field basis. Under the less stringent criteria of the Petroleum Resources Management System, formerly known as the Society of Petroleum Engineers, total proved reserves stood at 9.982 billion barrels of oil equivalent, representing a replacement ratio of 297%.
Sibir, Shell JV Sets New Crude Oil Production Record at Salym Fields
January 26, 2009 - Rigzone News - Sibir has announced that the crude oil production rate at its Salym fields exceeded 150,000 barrels per day (bopd), a new record. The Salym fields are located in western Siberia and are operated by Salym Petroleum Development NV (SPD), Sibir's 50:50 joint venture with Shell. The new SPD production record brings Sibir's 50% share of production at Salym to over 75,000 bopd. Combined with production from Sibir subsidiary, Magma, at the Yuzhnoye fields in western Siberia, Sibir's total daily production now exceeds 81,000 bopd. Commenting on the announcement, Sibir CEO, Henry Cameron said, "Sibir is very gratified by achievement of the 150,000 bopd production mark at Salym just over three years since the start of commercial production as it marks the fulfillment of the production forecasts upon which the decision to develop the Salym fields was based. A record 45.5 million barrels of oil were produced at Salym in 2008, representing a nearly one-and-a-half fold increase over 2007 total production. We congratulate the SPD team on these hard-won achievements which were accomplished through professionalism and dedication to task."
StatoilHydro Invests in Arctic Russia's Future
January 23, 2009 - Rigzone News - StatoilHydro is steadily developing a viable offshore suppliers industry in northwest Russia -- and the efforts are making an impact. Russian and Norwegian dignitaries, students and journalists turned out this week for education grant awards and cooperation signing ceremonies between StatoilHydro and schools in Murmansk and Arkhangelsk. "This is a very important occasion for northwest Russia and StatoilHydro. We're signing agreements to train local students for opportunities in the region's emerging oil and gas industry," said signatory Bengt-Lie Hansen, StatoilHydro president Russia. He was joined by Lyceum no.6 vocational school principal Grigory Shatilo in Murmansk and ASTU director Alexander Nevzorov in Arkhangelsk. Also present were Norway's deputy foreign minister Elisabeth Walaas, Murmansk regional governor Yuri Evdokimov and Arkhangelsk vice-governor Elena Kudryashova. Granting Opportunity Mr. Lie Hansen handed out grants to 10 welding and machine operator students and two teachers at Lyceum no. 6, which has a total of some 1,000 students, and about 85 in the welding and machine operator courses. Most of the students are between the ages of 15 and 18. About one-third of the welding and machine operator students have grown up in orphanages, and most of the others come from homes run by single mothers. Academic Advancement The students at ASTU are slightly older and more academically advanced. "Russia's offshore technologies are not yet developed and we need cooperation with technologically advanced companies," said Kirill Izmikov, 20, a 2008 grant recipient and summer intern at StatoilHydro's R&D centre in Porsgrunn last year. Mutual Benefit "These programs are not only important for northwest Russia and the schools, but for StatoilHydro's efforts to be an Arctic champion," emphasized Hansen. "A cooperation between people means that you believe in an idea. We believe in you and I hope you believe in us. Together, we can make a difference." Building a Workforce StatoilHydro has been in Russia for more than 20 years and recognizes the acute shortage of qualified labour in the country's far north. "The start up of extensive offshore oil and gas developments in Arctic Russia will demand qualified professionals. In addition to engineers and managers, we need skilled workers," said StatoilHydro Russia head of industrial development, Benedikt Henriksen. The Shtokman offshore gas field development alone will create roughly 1,700 new onshore and offshore jobs in northwest Russia.
FT report raises further questions over TNK-BP CEO position
January 23, 2009 - Russia Today - A report in Britain's Financial Times suggests that a remuneration dispute is delaying the expected announcement of Denis Morozov as CEO of TNK-BP. Following the announcement of the appointment of former German Chancellor, Gerhard Schroder as an independent Director earlier in January, it was widely anticipated that an announcement on the CEO position would soon follow. The position has been vacant since former CEO Robert Dudley left Russia in mid 2008 at the height of a bitter management struggle between joint owners, Britains BP, and the AAR consortium which represents Russian shareholders. Press reports have suggested that Mr Morozov was the likely candidate for the position, in the wake of a management agreement reached between the previously warring shareholder factions in December. Morozov had the Chief Executive role at Norilsk Nickel until July 2008. The report in the Financial Times, referring to unnamed sources linked to BP, AAR, and associates of Mr Morozov, says that the AAR consortium has now rejected Mr Morozov after agreeing terms in December, with the size of his remuneration package being the stumbling block. The report adds that this may reflect an opening of divisions between BP and its Russian partners after the December agreement, and that the search for a new CEO has been restarted.
Wednesday, January 21, 2009
Kazakhstan says raised gas transit fee by 21 pct
ASTANA, Jan 21, 2009 (Reuters) - Kazakhstan has raised the fee for the transit of Uzbek and Turkmen gas to Russia by 21 percent from the beginning of 2009, Energy Minister Sauat Mynbayev said on Wednesday. Kazakh state oil and gas company KazMunaiGas [KMG.UL] and Russia's Gazprom (GAZP.MM) signed a deal on December 31 last year raising the fee to $1.7 per 1,000 cubic metres per 100 kilometres from $1.4, Mynbayev told a government meeting. Russia, which buys natural gas from the Central Asian states for further exports to Europe, has promised to raise the price it pays for the gas to European levels. Gazprom has also said it had agreed new pricing levels with Turkmenistan and Uzbekistan, but has not revealed the price. (Reporting by Raushan Nurshayeva; Writing by Olzhas Auyezov)
Gas row shakes Europe's trust in Russian energy
21 Jan. 2009 - Reuters
by Robin Paxton and Amie Ferris-Rotman
- MOSCOW, Jan 21 (Reuters) - By cutting off gas supplies to Europe via Ukraine, Russia strengthened its case for new pipelines to bypass its ex-Soviet rival. But it may also have lost Europe's trust. European consumers, left to shiver for two weeks when Moscow shut off their gas, will now accelerate plans to develop alternative fuels and build a regional gas supply network better equipped to withstand disruptions from the East, analysts said. Moscow might also find its political influence waning in eastern Europe, the region worst affected by the crisis, as governments there look more to the European Union for support. "There is a lot of bitterness around the way that Russia behaved over much of the last two weeks in failing to reach any sort of workable compromise," Julian Lee, senior energy analyst at the Centre for Global Energy Studies in London, told Reuters. "There is a real sense Gazprom behaved in a way designed to embarrass Ukraine, rather than to get the gas flowing again." Russian gas started to reach Europe via Ukraine on Tuesday after the two sides signed a 10-year deal to end the dispute, which cut supply to about 20 European countries. Gazprom, Russia's state-controlled gas export monopoly, attributes the cuts to Ukraine's inability to offer safe transit. But the dispute has raised doubts in the West over Russia's long-term reliability as an energy supplier. "When the government should have been looking to integrate Russia and unite its strengths with those of other countries, Gazprom embarked on a large-scale confrontation," said Nikolai Petrov, political analyst at the Carnegie Moscow Center. Russia supplies a quarter of Europe's gas needs and, in the short term, customers have few alternatives. Pipelines such as Nabucco, which aims to ship up to 31 billion cubic metres a year of Caspian region gas by 2020, bypassing Russia, don't have enough gas to fill them. But European diplomats who attended meetings during the row say privately that Gazprom is worried about "anti-Russian" EU policies which envisage a reduction in Russian gas imports. Europe will accelerate plans to build new gas storage and a unified European gas grid, analysts say. Nuclear and other alternative fuels will also be pursued with more urgency.
NEW PIPELINES -- This could play into Russian hands. Prime Minister Vladimir Putin, speaking at the signing of the deal with Ukraine, said Russia should pursue the Nord Stream and South Stream pipeline projects and create the means to deliver liquefied natural gas. Russia's case for the Nord Stream pipeline, which would cut out Ukraine by pumping 55 billion cubic metres of gas under the Baltic Sea to Germany every year from 2011, has been bolstered. "The need for alternative import routes has again been forcibly demonstrated with the recent gas flow disruption. It is highly likely the process to approve and build Nord Stream will now accelerate," said Chris Weafer, strategist at UralSib bank. Ukrainian President Viktor Yushchenko, long at odds with the Russian leadership over his pro-Western stance, has cited Nord Stream -- which is still opposed in some parts of Europe -- as a possible motive for Moscow in the gas dispute. "To deprive European consumers of gas in winter in order that the Baltic countries might perhaps look more favourably on the northern pipeline route is completely disproportionate," said Carnegie's Petrov. "It's like using an atomic bomb to go fishing, rather than to end a war."
POLITICAL OPPOSITION -- South Stream, a 30 billion cubic metres per year project in which Italian energy major ENI SpA (ENI.MI) has a stake, might be a harder sell. Its proposed route cuts through Balkan countries still smarting from supply losses. "Russia has upset a lot of allies in southeastern Europe who were important for South Stream," a diplomat told Reuters on condition of anonymity. For Moscow, a loss of trust could have political ramifications, particularly as the European Union appears to be acting, at least in some cases, with a single voice on the question of energy security. "Losing 30 percent of the Bulgarian gas market, financially, is not a big loss to Gazprom. What's more important politically is the loss of status as the monopoly supplier of gas to Bulgaria," said Lee of the Centre for Global Energy Studies. Even when the Soviet Union stationed half a million soldiers in eastern Europe to protect its Cold War interests in the 1970s, gas flows West were never interrupted. The latest row has changed perceptions of Russia, said Jonathan Stern of the Oxford Institute for Energy Studies. "This is an event that will be remembered forever," he said.
Tuesday, January 20, 2009
TNK-BP Restructures Board, Selects 3 Independent Directors
January 15, 2009 - Rigzone - BP announced that the shareholders in TNK-BP have agreed to appoint three independent directors, including former chancellor of the Federal Republic of Germany, Gerhard Schroeder, to the restructured main board of TNK-BP. His fellow independents will be James Leng, the chairman designate of Rio Tinto, and Alexander Shokhin, president of the Russian Union of Industrialists and Entrepreneurs. BP and Alfa-Access Renova (AAR) have agreed to appoint the three directors to avoid the risk of deadlock between the 50:50 owners of the joint venture, which are represented on the 11-strong board by four directors from each side. BP's four nominated directors on the main board of TNK-BP are: Andy Inglis, chief executive of BP's upstream business, David Peattie, BP's head of Russian business, Iain Macdonald, BP's deputy chief financial officer and Lord Robertson of Port Ellen. The AAR-nominated directors are Alfa Group chairman, Mikhail M Fridman, Renova Group chairman, Viktor F Vekselberg, Access Industries chairman, Len Blavatnik and Chairman of Pamplona Capital Management, Alex Knaster. Until a new CEO of TNK-BP is announced, Tim Summers will continue in the role. Welcoming the new structure, BP chief executive Tony Hayward said, "We believe the composition of this board, which includes individuals of significant distinction in business and politics, can achieve good business alignment between the shareholders of TNK-BP and safeguard the interests of all sides. "I am especially pleased that Gerhard Schroeder has agreed to join the restructured board. The counsel of such a distinguished statesman, who brings both enormous geo-political experience and a history of strong relationships with Russia, gives me particular confidence that the next chapter in the progress of TNK-BP will be good for all shareholders and for Russia." Herr Schroeder said, "I am looking forward to working together with the other members of the main board of TNK-BP. I feel certain that, with the support and trust of both shareholder groups, I will be able to make a contribution to the company's success that will serve as an important example of Russia's cooperation with international investors, thereby providing a significant contribution to Russia's integration in the global economy."
'Gas row sullies Russia's reputation'
15 January 20098 - Upstream OnLine - German Chancellor Angela Merkel warned Russia today that its row with Ukraine is risking its reputation as a reliable energy supplier, while the the International Energy Agency's (IEA) chief economist went a step further, saying Moscow had already lost status as a dependable source of energy. The IEA's Fatih Birol made the comment during a conference in Madrid. Earlier today, Merkel told reporters at a news conference with UK Prime MInister Gordon Brown: "I think there is a risk that confidence in Russia could be lost in the long run. "I will talk tomorrow with the Russian prime minister on this issue." Russian Prime Minister Vladimir Putin is due to visit Germany tomorrow and meet with Merkel. Meanwhile, Turkey's Energy Minister Hilmi Guler said it is unclear when Russian gas will start flowing through the country's western pipeline. Guler was speaking to Reuters today after returning from talks in Moscow with Russian officials. A source from the Energy Ministry had said earlier in the week that the Russian gas flow on the western line would begin flowing today and reach normal levels by Friday. Supplies from Russia, which provides a quarter of Europe's gas, fell last week amid a dispute with Ukraine, through which most pipelines travel. Russia began pumping gas destined for Europe via Ukraine on Tuesday, but the European Union has said that little or no Russian gas had reached countries affected, including Turkey. "The natural gas crisis is serious, but we are managing the problem," Guler said. Russia cut gas flows on its trans-Balkan link - which also serves Turkey - on 6 January. The pipeline normally carries about 40 million cubic metres per day, while another line, Blue Stream, carries 35 MMcmd. Flows on Blue Stream have not been disrupted. Turkey and its six European partners remain committed to Nabucco, a gas pipeline project aimed at diversifying the EU's supply of the fuel, Guler added.
Report casts doubt on Lukoil Caspian trove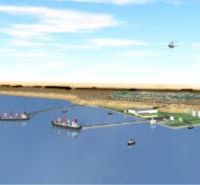 14 Jan. 2008 - Scan Oil&Gas - Moscow-based Lukoil has found no oil or gas in a Caspian Sea license it once touted as potentially containing 800 million barrels of oil, Reuters reported Wednesday citing a source in Azeri state oil company Socar. Scandoil.com has reported extensively on Lukoil's build-up in the Caspian Sea, one of the world's richest oil and gas provinces. Lukoil, which is 20-percent owned by ConocoPhillips, is joined at the license by Socar (20 percent) and Gaz de France (15 percent). Yesterday, Lukoil said the Caspian offshore accounted for at least one of the eight fields discovered in 2008. Seven other new fields were found in Central Russia, two in southern Russia and two in Siberia. The company said its Caspian shelf project over some 1,200 square kilometres represented "an efficient opening up" in order to replace used up reserves. By October last year, the company said its 2008 investments in the Caspian region had reached $340 million. Lukoil in 2009 is flush with cash from fuel-oil sales after a successful refinery expansion. The company now promises more work with the drill bit, although the Caspian Sea is still said officially to be in for "further field development". In May 2008, Gazprom and Lukoil heralded a major hydrocarbon field at the Tsentralnaya structure in Russia's Caspian sector by the Kazakh border. The first exploration wildcat hit hydrocarbons, and then testing produced sweet crude in commercial flows without mechanical aids. In October, Swedish oil company Lundin Petroleum estimated its oil discovery in the Caspian Lagansky block contained up to 450 million barrels of recoverable resources, "a major discovery," company chief exec Ashley Heppenstall proclaimed.
Rosneft Appoints First Vice President
January 12, 2009 - Rigzone - Rosneft announced that Eduard Khudainatov has been appointed the Company's First Vice President to succeed Sergey Kudryashov who was responsible for supervising production operations at Rosneft, and serves as Deputy Minister of Energy of the Russian Federation since late December 2008. Eduard Khudainatov was born in 1960. He has graduated from Tyumen State University and the International Academy of Business (Moscow). 1993-1996 -- Head of the Evikhon oil company (Nefteyugansk) and Yuganskpromfinko. 1996 -- Deputy Head of the Nefteyugansk Administration; First Deputy Head of the Nefteyugansk region and Head of the Poikovsky settlement Administration. 2000-2003 -- Federal Inspector in the Nenets Autonomous District of the administration of the Authorized Representative of the Russian President in the Northwestern federal district. 2003-2008 -- Director of Gazprom's subsidiary Severneftegazprom (Tyumen region). Prior to the new appointment, Khudainatov served as Rosneft Vice President responsible for capital construction projects. Rosneft management is confident that Khudainatov's knowledge and broad expertise will greatly contribute to implementation of the Company's core projects, such as development of the Vankor and Yurubchenskoye fields in East Siberia and construction of the Primorsk refinery in the Russian Far East.
BP ties up TNK-BP deal
9 January 20098 - Upstream OnLine - UK supermajor BP said it reached a final settlement with Alfa Access-Renova (AAR), its joint-venture partner in Russia's TNK-BP, giving the Russian side even more influence than the preliminary deal envisaged. BP spokesman Toby Odone said that under the deal, German Khan and Viktor Vekselberg, two of the four billionaires that form the AAR consortium which owns 50% of TNK-BP, will keep their management board roles. When BP reached a preliminary settlement with AAR in September, BP boss Tony Hayward said one or both of the men, who BP sources blamed for stoking hostilities between the partners, would likely leave the company. "It's reasonable to expect that one or both of them will leave their positions," Hayward told Reuters in an interview at the time. Hayward also said the appointment of the management team would be decided by the new chief executive of TNK-BP. BP-appointed Bob Dudley agreed to step down as chief executive as part of the peace deal. However, Khan and Vekselberg's positions are being confirmed before a new chief executive has been appointed. TNK-BP's chief operating officer Tim Summers is currently acting chief executive. BP said it retains the right to nominate TNK-BP's chief executive and chief operating officer under the deal, although these positions must be approved by TNK-BP's board of directors. Also, AAR's insistence that the chief executive should have substantial experience of working in Russia and Russian language proficiency was conceded in September. Odone denied today's deal included significant new concessions. "If you look at the management board, it's pretty balanced," Odone said. TNK-BP's management board is also being slimmed down under the agreement, to six members, including Khan and Vekselberg, from 13 members under Dudley. Odone said a new TNK-BP chief executive would be announced "in due course".
Europe feels chill of Russia gas row
6 January 20098 - Upstream OnLine - Russia sharply cut gas flows to Europe via Ukraine today in a dramatic worsening of a pricing dispute with Kiev that threatened to disrupt supplies as far west as Italy and Germany. Russian export monopoly Gazprom said it had supplied around 65 million cubic metres per day to Europe today through ex-Soviet neighbour Ukraine, a fall of 78% from the 300 MMcmd it had been shipping since the dispute erupted on 1 January. The European Union, dependent on Russia for a quarter of its gas, urged Moscow and Kiev to find a solution this week. The head of Ukraine's state energy company Naftogaz Ukrainy said he would fly to Moscow on Thursday, while Gazprom said it was ready to talk any time. Bulgaria, Turkey, Macedonia, Greece and Croatia said flows of Russian gas via Ukraine had come to a halt, creating what Bulgaria called a "crisis situation" in the middle of winter. EU members Austria and Romania said deliveries were down 90% and 75% respectively, and German energy player warned there could be gas shortages in Europe's biggest economy if the dispute dragged on and sub-zero temperatures persisted. "Even our possibilities will reach their limits if these drastic cuts in shipments last and if temperatures continue to stay at very low levels," E.ON Ruhrgas boss Bernhard Reutersberg said. Gazprom can only guarantee gas supplies to Italy of 7 MMcmd today, or less than 20% of the expected amount, an Italian source close to the matter said. The industry ministry earlier said Rome planned to increase gas imports from alternative suppliers. Russia and Ukraine blame each other for the crisis, which has struck at the height of the European winter and spread alarm across the continent. The baseload day-ahead price for gas traded in London was up 18.5% at its highest since late October, driven by cold weather and anticipation that a protracted dispute could have a knock-on effect on British supplies. Gazprom spokesman Sergei Kupriyanov declined to elaborate on the reasons for the sharp fall in supply to Europe today. "There was a request for 130 MMcmd. We have supplied those volumes minus 65.3 MMcmd," he told Reuters. The figure of 65.3 MMcmd refers to the amount of gas that Moscow accuses Ukraine of stealing since 1 January by siphoning off gas meant for Europe. Gazprom had previously accused Ukraine of shutting down three Russian export pipelines early today and said it was a hostage of Kiev's "irresponsible behaviour". But Ukraine blamed Russia, with President Viktor Yushchenko saying Moscow would continue cutting gas supplies to Europe or stop them altogether. State energy company Naftogaz said Russian supply was down to 58 MMcmd, below the Gazprom figure. Ukraine's government ordered regional utilities to start using fuel oil instead of gas. Neighbouring Slovakia will declare a state of emergency, Czech news agency CTK reported. Poland cut gas supplies to industrial clients, while Serbia and Bosnia said Russian supplies had completely stopped. The Czech Republic, which holds the EU's rotating presidency, said it was considering the "extreme option" of a three-way EU-Russia-Ukraine summit. "However this is not on the table yet because we insist the two sides must reach an agreement," Prime Minister Mirek Topolanek said. The dispute threatens to worsen Russia's ties with the West, already fraught after its war with Georgia last year. Europe's heavy dependence on Russian energy - and vulnerability to supply disruption - was highlighted when Moscow reduced volumes to Ukraine on New Year's Day after failing to reach agreement with Kiev over gas prices. But most larger EU countries say they have large amounts of gas stockpiled after several mild winters, and have access to supplies from sources such as Norway and Algeria. "If there are significant drops in supplies to the European Union, the key question is whether it goes on for a very long time. But it would have to go on for weeks or months for serious problems to arise for Western European customers," said Simon Blakey, director of European research at Cambridge Energy Research Associates. Russia and Ukraine have clashed repeatedly on a range of other issues, particularly the ambition of Ukraine's pro-Western leaders to join Nato. The disruption comes at a bad time for Europe, which is experiencing a cold snap likely to drive up gas demand. "We are in a crisis situation," Bulgaria's Economy Ministry said in a statement. State player Bulgargaz told industrial users it was suspending or cutting supplies to a minimum and urged them to switch to alternative fuels like oil. Two fertiliser companies had to halt production. The government said people would not be left in the cold, but urged households to start using other means of heating. Temperatures on Monday night fell below minus 15 Celsius (5 Fahrenheit). Worries about European gas supplies, coupled with Israel's military operation in Gaza, have pushed oil prices up to a three-week high close to $50 a barrel. Russia, whose main export is oil, stands to benefit from a recovery in prices.
Ukraine and Russia swap accusations as gas dispute continues
MOSCOW, January 3 (RIA Novosti) - The gas dispute between Russia's Gazprom and Ukraine's Naftogaz is set to continue with both sides swapping accusations on Saturday as EU states reported drops in Russian gas deliveries via Ukraine. As temperatures plummeted across Europe, a number of EU countries reported decreases in Russian supplies after Russia's Gazprom cut gas deliveries supplies on Thursday to Ukraine amid a long-standing dispute over a $2 billion unpaid debt and gas prices for 2009. Romania, which gets around 65% of its gas supplies from Russia, said gas flows from Ukraine had fallen by 30-40%, while Polish company Gaz-System registered decreases of 11%. Around 80% of all Russian gas exported to Europe is transited through Ukraine. Gazprom CEO, Alexei Miller, said at a Gazprom meeting that "consumers in Hungary, Slovakia, Romania, Poland and the Balkans had registered unauthorized gas tapping on Ukrainian territory," adding that the company would ensure additional gas supplies were pumped to Europe. Ukraine's state-run Naftogaz denied it was siphoning gas and accused Gazprom of cutting gas deliveries to Europe to cause a shortfall. A company press spokesman also said that gas deliveries to Romania had been resumed and blamed a technical problem with Ukraine's pipeline network. "Two hours ago I received information, that supplies to Romania were back to normal," Valentin Zemlyansky told Russia's Ekho Moskvy radio. Gazprom deputy CEO, Alexander Medvedev, told a press conference in Prague, which holds the EU presidency, on Saturday that the Russian company was still waiting for a response from Ukraine on further talks. Medvedev is due to visit a number of EU cities to try and reassure leaders of Gazprom's reliability as a gas supplier to European consumers following a similar halt in Russian gas deliveries to Ukraine three years ago. Oleh Dubyna the chief of Ukraine's Naftogaz said that the state-run company was ready to travel to Moscow to sign a "new mutual deal" at any time, but was not prepared to pay the $418 per 1,000 cu m for Russian gas demanded Gazprom. Ukraine rejected a price of $250 proposed by Russia at last-ditch talks on Wednesday in Moscow. Russian Prime Minister Vladimir Putin said the price was tantamount to "humanitarian aid," however Ukraine said it was only prepared to pay $201. The EU is due to meet on Monday in Brussels to discuss the current gas dispute, earlier the EU urged both sides to engage in further talks, stressing in a statement that "All existing commitments to supply and transit must be honored."
Contact me: